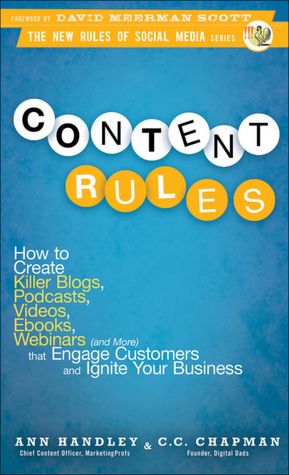 Book Review of Content Rules by Ann Handley & CC Chapman
This book, while not new, has the best subtitle: How to Create Killer Blogs, Podcasts, Videos, Ebooks, Webinars and more that Engage Customers and Ignite Your Business. Published in 2011, it's a resource that should be on every PR practitioners' shelf.
Back in 2008, when David Meerman Scott Published "The New Rules of Marketing and PR," his main takeaway was that organizations need to think like publishers instead of marketers. Now that we are seeing the effects of the attention economy, "Content Rules" is the next step to help PR teams visualize what being a publishing organization requires.
And it's written in a style that is easily digestible, somewhat tongue-in-cheek, yet it is PACKED with actionable ideas. Right from the start, in a chapter titled "Big Fat Overview" (as opposed to "introduction), you know that these two authors will lead you into new concepts with an element of fun.
There's so much here for PR teams to embrace and best of all, it perfectly aligns with our industry's skill set.
The book is organized into three sections.
The first makes the case for why content should be created and shared. This section establishes the rules of the road for public relations pros to successfully create content. Here's a few key takeaways:
Avoid one and done -- integrate everything.

Leave stuff alone -- don't be so perfect that there's no room for your audience to participate.

Get rid of that jargon-- business speak can kill your content.

Storytelling can be used in any organization.
The second section is a how-to for different types of content like blogs, ebooks and photographs. There are tons of ideas and checklists for each type of content, which goes a long way to deciding what approach will work for your organization. The most refreshing thing about this section-- it is a Facebook-free zone!
The last section features 10 case studies from a wide variety of organizations that will be worth referring to over and over again. This is one of the most generous business books I have read in awhile and the authors offer even more resources online and on their Facebook page for the book.